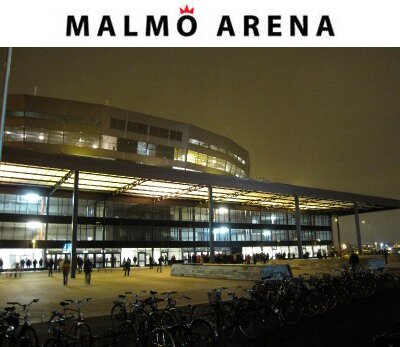 Malmö Arena is a spectacular sports and entertainment venue with its total gross floor area of​ 51 000 m2 and has an audience capacity of 13000 people at sporting events and 15500 people at music events. It is located in the new district Hyllievång. The initiator and driving force in the creation of the arena is the developer Percy Nilsson, who began the planning which was later drafted and finalized in collaboration with the City of Malmö.
The stadium was designed by Pöyry Architects & Wingårdhs architectural offices after planning permission hade been obtained in September 2006 and the delayed groundbreaking ceremony could take place on 10 January 2007. "Byggteknik i Skåne" was the building constructor. It opened with great pomp and pageantry 6-7 November 2008 in which , among others, Robyn and Andreas Johnson were some of the artists who celebrated with Percy Nilsson and 11 000 guests in the new Malmö Arena.
The stadium is the home arena of the ice hockey team Malmö Redhawks and among the major events that have been arranged in Malmö Arena some noticeable are the national selection of the Eurovision Song Contest in 2009 and 2012, Idol in 2010, Swedish annual football award in 2010, national finals in floorball from 2012 to 2014 and the Eurovision Song Contest in 2013. In the year 2009 the arena was graced for the first time by world elite in athletics where the contest Malmö Indoor Gala was held.
A number of artists have given concerts in Malmö Arena and some that have appeared are Bob Dylan, Mark Knopfler, Ulf Lundell, Cliff Richard, Avicii and Lady Gaga.
Malmö Arena is a complete entertainment venue and has the facilities that modern events require. There are several restaurants and bars of which Percy's Restaurant & Bar is the largest and regarded as Sweden's freshest venue with panoramic views of the stadium. This restaurant has a capacity upto a total of 700 people with 2 "dance floors". Overall, 3500 people can enjoy a seated dinner at events in the arena and there are also over 70 private lodges that can be booked to enhance the experience of the events.
For more information go to: www.malmoarena.com